talent that always deserves the spotlight
Phil Dirt & The Dozers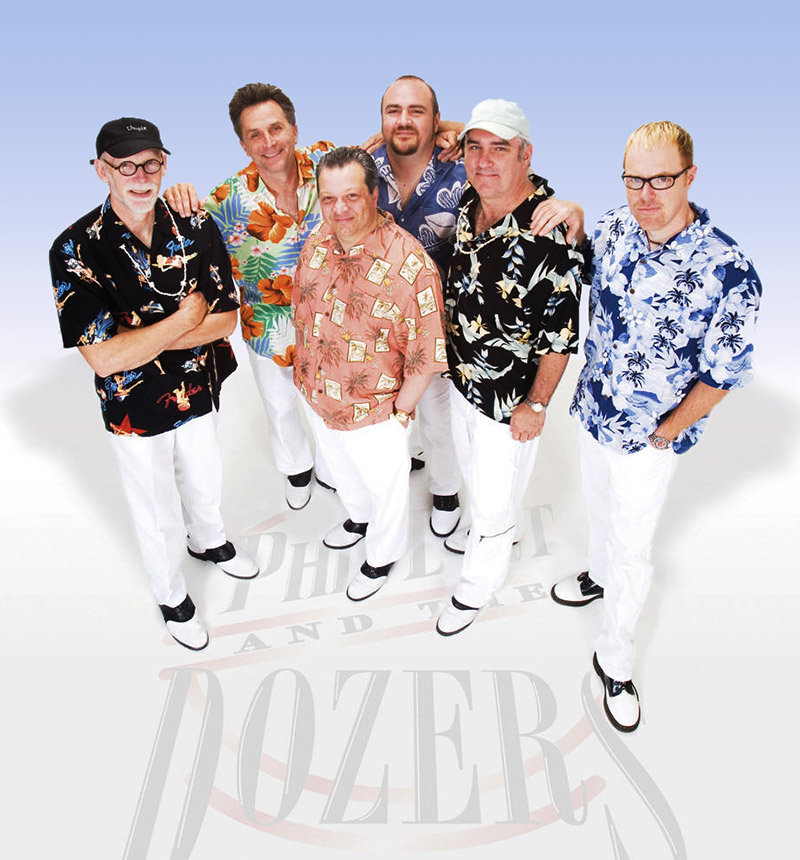 We all need a throwback to remind us of where we came from and why our future rests on the foundation of the past. A Phil Dirt and the Dozers show will take you right back to classic Rock n' Roll's golden age; a spiritual place often revisited by modern day superstars for inspiration and direction. For years, Phil Dirt and the Dozers have been praised, honored and downright loved by people everywhere. From their rise in Columbus, Ohio in 1981, the Dozers have kept their eyes keenly focused on musical perfection, quality, and entertaining their audiences. Standing ovations, encores, fun, laughter, and repeat performances are the "norm" for the Dozers. Their seasoned wit, extraordinary talent, musical excellence and artful versatility have granted them a place among the best nostalgic Rock n' Roll bands in their genre.
Join PHIL DIRT & THE DOZERS on a nostalgic musical journey, back to a time when life was more simple--the world a bit smaller--and the cost of a new Chevy was about $2,000.00. A time when cool cars cruised the local teenage haunts and the radio was always Rockin' the tunes. Seem like a long time ago? Let's go back .
PHIL DIRT & THE DOZERS will help you recapture those wonderful days! With their musical talent, high energy and contagious sense of humor, Phil Dirt & The Dozers will transport you to another time and place, the classic Rock and Roll of America's golden years. The Dozers perform the intricate vocal harmonies of the Beach Boys, Four Seasons, the Eagles and many more to perfection. It's a genuine rock n' roll party! And fun it is....Imagine the Platters' soul-stirring "Only You" performed with all the scratches and skips found on a well-worn 33 1/3 record, the way the Dozers first learned it! The PHIL DIRT & THE DOZERS' show is performed absolutely live with a sophisticated yet lighthearted approach that creates an atmosphere all age ranges will enjoy. This is an amazingly talented group of musicians, yet very humble, professional--and, oh yes, charming!
As the old saying goes, success speaks for itself. In the world of musical entertainment, the name Phil Dirt & The Dozers is synonymous with success. Why? Time after time Phil Dirt & The Dozers have proven themselves at countless events including many Performing Arts Centers coast to coast, as well as fairs, festivals, corporate shows, theaters, casinos, speedways, car shows and conventions. Always dedicated to the success each event, the Dozers have been mesmerizing and winning the hearts of thousands of clients and fans ranging from the Bellaire Country Club in Beverly Hills to the stage of the Lincoln Center in New York City... from the sunny beaches of Hawaii to the State Fairs of America, and from the Caribbean to Canada. The Dozers have always made the enjoyment of their clients and fans their number one priority.
For more information and booking opportunities, contact Steve at SmartActs today!
© 2023 SmartActs - A division of Entertainment Resource Group, llc.
website by Goodmany Arts